Shaw Propane FAQ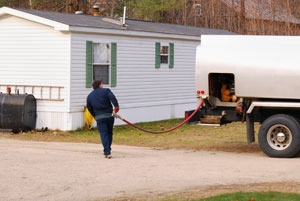 At Shaw, we value our customers and the business they bring our company. Above all, we're here to help. That being said, we understand that you may have some questions about our business. Below are answers to some questions we often hear.

If you have a question not listed here, please call or contact us.
Why do I need a leak test?
Leak tests are required any time there is an interruption of service, meaning the flow of gas was stopped for any reason. NFPA 54 (2006), 8.2.3 states that "immediately after the gas is turned on in a new system or in a system that has been initially restored after an interruption of service, the piping system shall be tested for leakage. If leakage is indicated, the gas supply shall be shut off until the necessary repairs have been made."

All propane piping, connections and fittings are threaded so that they may easily connect together during installation or modification. These propane connections are coated with a pipe joint compound that lubricates the fittings during the joining process and will dry after a short while. During normal usage, a propane plumbing system is at a constant pressure. This means that as long as the tank has gas and is supplying the system with propane, a constant pressure is exerted on the piping and the pipe joint compound. The pipe joint compound will expand during normal pressurized usage and will retract if the system loses pressure. This loss of gas pressure may cause leaks to form because of the expansion and retraction of the piping compound within the propane plumbing system.

The leak test will indicate any leaks within the propane piping system due to interruption of service or out of gas situation. The leakage test is simply testing the integrity of the system plumbing joints and the seal of the pipe joint compound. This is the safety reasoning behind leak testing. The real reason a leak test is performed is because it is required by law and none other.

All too often, propane customers run out of gas when temperatures are the coldest. No matter what the temperature or how busy the gas company is, if the tank is out of gas a leak test is required. This is considered an interruption of service. How do you keep from running out of gas? Keep an eye on the tank gauge or have your propane company place you on an automatic delivery schedule. Out of Propane = Mandatory Leak Test. It may not be convenient but it's the law.

Many companies will charge a fee for performing a leak test. Even if a propane company does not charge for a leak test, it costs the company time and money. Cold weather brings about increased gas usage and because more propane customers run out of gas during these cold spells, propane delivery personnel perform more leak tests. If leaks are discovered during a leak test, the driver has to fix the leak(s) before filling the tank.

These repairs can sometimes take an hour or more, leaving the driver with less time to complete his deliveries. If the propane company is busy performing leak tests and repairs, they are not delivering as much gas as they could or should be. This sometimes results in lost customers and decreased output. Leak testing is required but costs a propane company more in time to test and repair a gas system than they could make by delivering the much needed propane to cold customers. Even if the propane company charges a hefty price for a leak test, consider it a positive thing. A propane company that is trying to deter consumers from running out of gas is taking an active stance in protecting the propane industry and its customers.
Should I have my tank filled before the summer months?
Yes. When you leave an oil tank partially filled, it allows air to get inside where water can condense. This causes bacteria to build up in your tank, and the formation of sludge, which is a leading cause of breakdowns in many heating systems. Condensation can also erode your tank, causing leaks or even a spill.
Can I repair or modify my own propane system?
This is probably the single most important safety issue the propane industry battles on a daily basis. People constantly want to fix their own leaks or make changes to their gas system to save money or because the propane service technician isn't available for several days or weeks. Modification to any part of a propane system by an untrained person is unsafe and not advisable. All repairs and modifications to any part of a propane system should be handled by a propane company or licensed propane gas professional. You will be safer in addition to it being cheaper in the long run. In short, performing repairs and making modifications or additions to your propane system is not advisable.
Do propane cylinders explode easily?
LP gas cylinders do not explode easily and do not explode on their own. Propane cylinders will not explode when they are used and stored in accordance with NFPA requirement.
What is fuel oil?
Fuel oil is a liquid petroleum product that is burned in a furnace or boiler for the generation of heat. Fuel oil comes from crude oil.
What is kerosene?
Kerosene is a flammable liquid that is obtained by distilling petroleum at a high temperature. At one point in our history, kerosene was used mainly for lighting in lamps. It is not recommended for that purpose now and is used as a home heating fuel.